Minister Liz Sandals joins MPP Yvan Baker for Holodomor Mobile Classroom Launch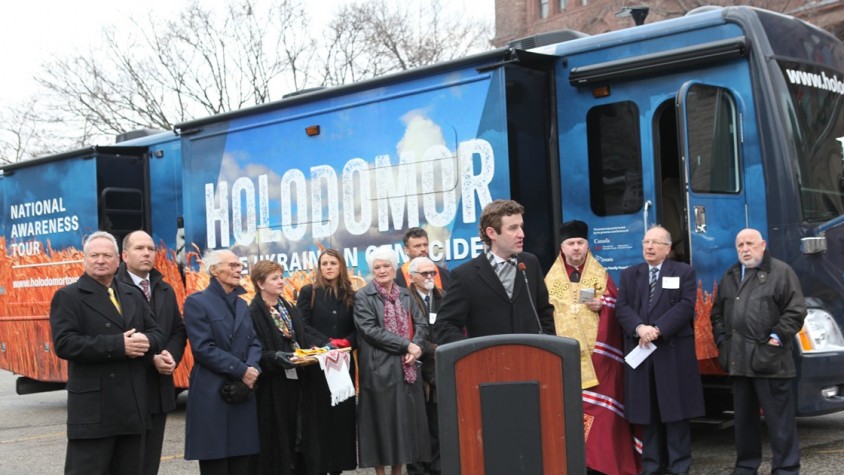 Yesterday at Queen's Park I had the pleasure of joining Minister of Education Liz Sandals for a commemoration of Holodomor Awareness Week and for the launch of the Holodomor Mobile Classroom.
A big thank you to the members of the community who joined me yesterday, as well as Bishop Stephen Chmilar of the Ukrainian Canadian Catholic Church and Bishop Andriy of the Ukrainian Orthodox Church of Canada who blessed the Mobile Classroom.
I would also like to thank Premier Kathleen Wynne and Minister of Education Liz Sandals for their dedication to the mobile classroom project. Bringing the mobile classroom to life will help young people across Ontario learn about the Holodomor in an immersive and powerful way.
Please see here for more photos from the event and don't forget to also click the link at the bottom for a copy of the Premier's statement.
Holodomor Mobile Classroom
Funded by the Government of Ontario, the bilingual, wheelchair accessible mobile classroom will provide students from across the province an opportunity to learn more about the Holodomor, the Ukrainian genocidal famine of 1932-33.
Earlier this year we celebrated the inclusion of the Holodomor in the Ontario curriculum as well as the funding commitment to complete the mobile classroom. This November I was honored to host the completed mobile classroom at Queen's Park to share it with my colleagues to officially launch the Holodomor Awareness Tour!
Once again, I would like to thank the community members who organized the Holodomor Awareness Tour and everyone who worked together to realize the Holodomor Mobile Classroom. It is an important tool to help us share the tragedy of the Holodomor with the next generation and to ensure a crime like this never happens again.
Sincerly,
Yvan
Attachments: Premier's Scroll