SPEECHES BY PREMIER KATHLEEN WYNNE AND MPP YVAN BAKER AT THE HOLODOMOR EDUCATION RECEPTION AND LEGISLATIVE ASSEMBLY AT QUEEN'S PARK IN TORONTO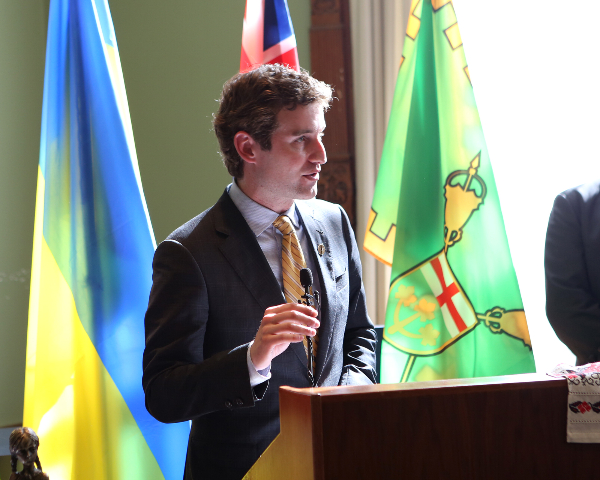 Dear Friends,
Last week I was pleased to welcome many members of the Ukrainian Canadian community and two survivors of the Holodomor to the Legislative Assembly of Ontario to a reception co-hosted by the Ukrainian Canadian Congress – Toronto Branch and the League of Ukrainian Canadians.
The reception was held to recognize the efforts of parliamentarians in raising awareness and educating future generations about the famine genocide known as the Holodomor.
In particular, leaders of the community wanted to thank Premier Kathleen Wynne and Minister of Education Liz Sandals for ensuring that the Holdomor will now be included in the Ontario educational curriculum so that every young person in Ontario can learn about the Holodomor.
I would like to extend my thanks and congratulations to Valentina Kuryliw, Chair of the UCC Holodomor Education Committee who has successfully led the community's work on this issue for many years.
In attendance at the reception were Premier Kathleen Wynne, Speaker Dave Levac and other members of the Legislature who co-sponsored a bill to recognize the Holodomor; Ministers and MPPs from all parties.
Prior to the reception, I delivered a statement in the Legislature on the importance of these efforts and in honouring the victims of this tragic time. You can watch it below:
Watch My Statement on Raising Awareness About the Holodomor
Below are just some of the photos from this special event:
I hope that we take this opportunity to commemorate and remember, but also redouble our efforts to ensure that a tragedy like this, a tragedy like the one that's happening in Ukraine right now, never happens again.