FAST (Fighting Antisemitism Together) – Celebration Event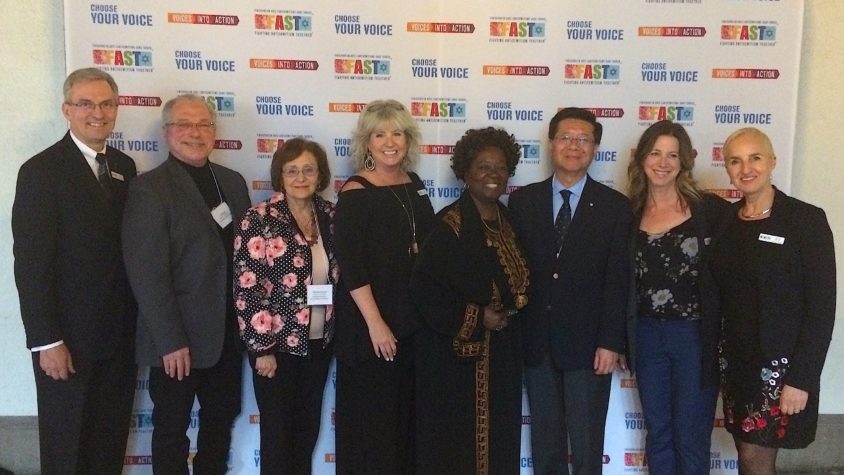 2 May 2019 at Great Hall, Hart House, University of Toronto, 5:30-7:30pm
HREC Education Director Valentina Kuryliw was invited, in 2017, to be a consultant to FAST's "Voices Into Action" program's online teaching unit about the Holodomor. FAST (Fighting Antisemitism Together) is a Canadian human rights activist group which opposes antisemitism and all intolerance. Founded in 2005 it is "a coalition of non-Jewish Canadian community and business leaders dedicated to speaking out against humanity's oldest hatred."
FAST has 2 award-winning teaching resources – one for middle years students called "Choose Your Voice" and "Voices Into Action" for secondary school students. "Voices Into Action's" Unit 2, Chapter 5 contains lesson plans on the Holodomor and a video interview with Valentina, the child of 2 Holodomor survivors. This unit was created by the Saskatchewan Provincial Council of the Ukrainian Canadian Congress's educators Nadia Prokopchuk and George Zerebecky. FAST has won the Award of Excellence from the Canadian Race Relations Foundation for both of these innovative teaching resources. FAST's programming has been delivered to over 3 million Canadian students combined to date in over tens of thousands of schools across the country.
On 2 May 2019, Valentina was invited to attend FAST's Celebration Event which was attended by government officials, including the Canadian Human Rights Chief Commissioner Marie-Claude Landry who gave the welcome remarks ("We're all in it together"), as well as business leaders who support this program, educators, FAST's Directors of Education from the different regions of Canada and other interviewees of and contributors to FAST's programs. During this event, two educators received recognition for promoting the FAST teaching units in their school boards, and 3 interviewee-contributors to FAST's @VoicesIntoActionfreeresource program, including Valentina Kuryliw, were recognized for their contributions to FAST's teaching units.
FAST website: The two FREE award-winning teaching resources can be accessed entirely online and offer educators a wealth of curriculum-based content and tools.