Fourth international Verba Magistri Methodology Lab Summer School for educators a 2021 success
In the field of education, important advancements are made in many countries to nurture and sustain innovative learning environments that advance progress and standards. In Ukraine, the process of building The New Ukrainian School is now underway. The Verba Magistri Methodology Lab is an important component of the 2016 partnership agreement between HREC Education, its affiliate HREC In Ukraine and the Ministry of Education of Ukraine. The Lab holds an annual 10-day Summer School Program for educators which teaches the Holodomor and other genocides, as envisioned by The New Ukrainian School curriculum guidelines. The Summer School program trains Ukrainian teachers to develop and adopt innovative and interactive methodologies for teaching human rights, genocide, and the Holodomor and to create new curriculum. HREC Education works closely with its affiliate organization HREC in Ukraine, headed by Dr. Liudmyla Hrynevych, on joint initiatives including organizing national education training programs conducted by HREC's Director of Education Valentina Kuryliw and other outstanding educators. Kuryliw is the lead instructor at the Verba Magistri Methodology Lab Summer School which utilizes her "The Historian's Craft/Maysternia Istoryka" sample lesson as a basis for teaching methodology and up-to-date resources. The Verba Magistri also conducts symposiums in Ukraine about the Holodomor for educators, academics, and methodologists, providing instruction in new methods for teaching the Holodomor in Ukrainian schools. Verba Magistri means "In the words of teachers."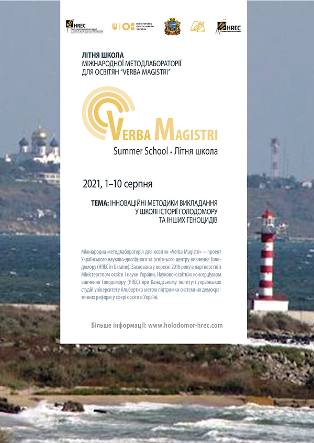 In 2021, the Fourth International Verba Magistri Methodology Lab Summer School for educators welcomed a dynamic group of 18 educators from across Ukraine in the seaside town of Chornomorsk from August 1-10th. For the safety of students, staff and faculty during the COVID-19 pandemic, no travel to Ukraine from Canada was possible this summer while the Verba Magistri Summer School followed the government of Ukraine's mandated pandemic rules. The location was changed to a larger space for better social distancing, the accommodations were similarly changed, and the usual 35 participants were scaled down to 18 due to the pandemic. The Ministry of Education of Ukraine selected the candidates, and this year mandated that teacher participants will be accepted who are 35 or younger only, have been teaching for at least 5 years and have demonstrated an interest in, and taught, the Holodomor. As in previous years, there were more candidates who wanted to attend than places for them.
A total of 70 teachers have now graduated from the Verba Magistriprogram with certificates issued by the Ministry of Education of Ukraine. The program presents interdisciplinary approaches to teaching the Holodomor and allows participants to come together to connect over their shared passion. To date, 16 educational specialists have led workshops and presentations within the program, among them highly regarded methodologists, historians, professors of literature, psychologists, and art educators. The program includes lectures on various aspects of the history of the Holodomor using the latest scholarship, with teacher-practitioners actively utilizing contemporary methods of teaching this important and complex topic. On August 2nd, Valentina Kuryliw presented her dynamic workshop "The Historian's Craft/Майстерня історика." An interactive lesson on the Holodomor, presented via Skype using PowerPoint slides, it included a variety of resources the teachers made use of in practice. The teacher participants worked together enthusiastically in groups to recreate what happened in Ukraine in the 1930s.
The brainchild of V. Kuryliw, the innovative lesson was published in Ukrainian in book form (100 pages) by HREC Press in Ukraine in time for the 2021 Summer School; the book was gifted to each of the participating educators. It serves as an example of how a lesson with an emphasis on human rights and the values of a democratic society, which develops critical and historical thinking skills, should be presented. Methodologically it creates an active learning classroom which models students working individually and in cooperative learning groups with
peer-to-peer instruction on a highly organized activity to acquire and practice these desired skills. The role of the teacher therefore shifts from the position of an all-knowledgeable authority dispensing information, to becoming a facilitator that provides feedback and enables student skill development through meaningful interactions by organizing lessons in such a way that students research guided resources and solve problems, map concepts as teams, come to their own conclusions and then reflect together upon their experiences.
WHAT STUDENTS HAD TO SAY:
"The knowledge, pedagogical experiences and unforgettable emotions form good memories for the teacher-practitioner. They will inspire interesting research, professional considerations and be a motivation to the creation and implementation of new projects." –Lilia Bolianiuk, educator, Ternopil, Ukraine
On August 6th, Kuryliw presented a second workshop on "ЛюдськийПрава і Цінності/Human Rights and Values," about teaching human rights and the Holodomor. Teachers took part in activities exemplifying authoritarian and democratic governments (Sparta and Athens), analyzed and examined the societal values and human rights inherent in each system – or lack thereof.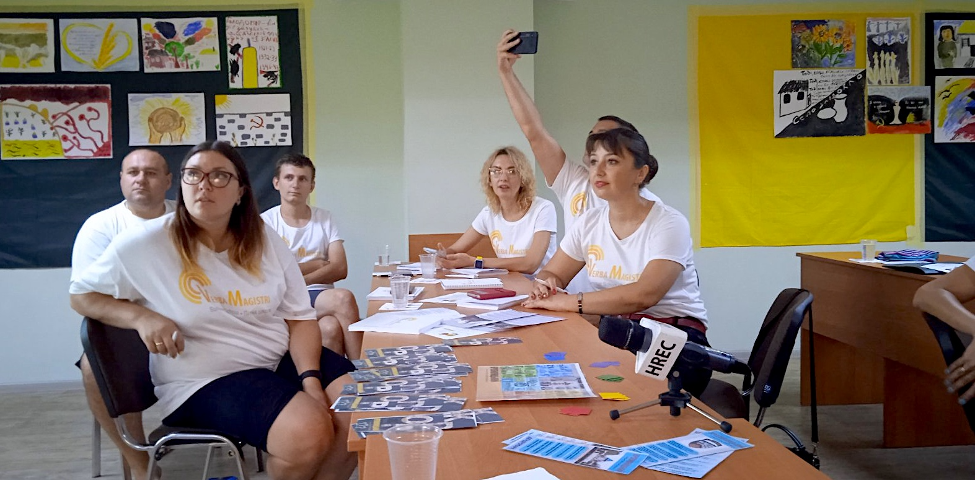 From this interactive work they came to a clear understanding of the values, knowledge, information, and skills each form of government determines for their education system so as to create responsible citizens within each society. This lesson helps teachers and students develop their historical and critical thinking skills. It models for educators what type of activities and methods can be used to have students analyze and synthesize resources, reach their own conclusions, develop their critical thinking, and become responsible and active citizens in their society.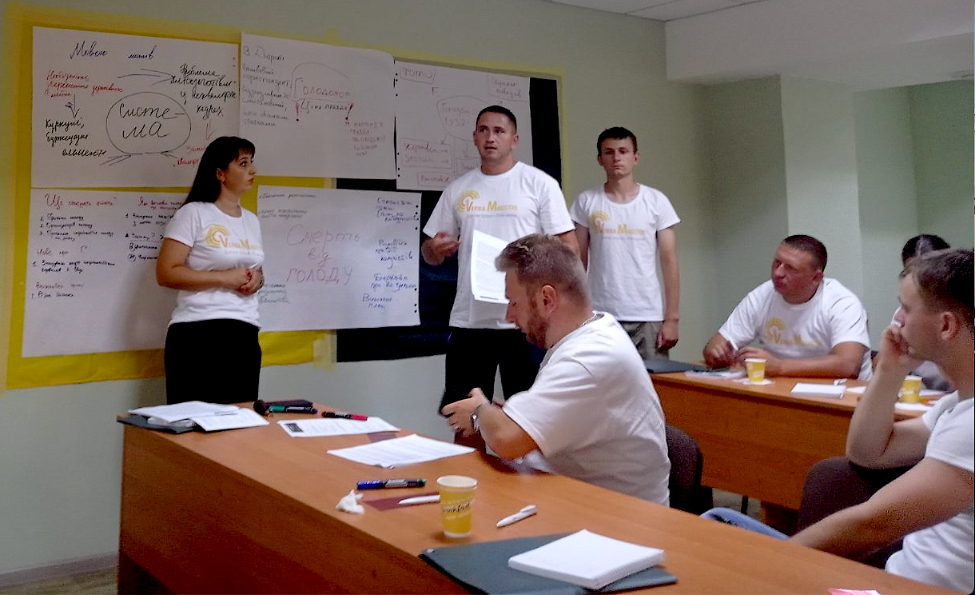 WHAT STUDENTS HAD TO SAY:
"An incredibly busy 10 days: "Verba Magistri" is a bridge and a space for the free exchange of views between academics and educators in introduction to effective educational methods for teaching about the Holodomor and other genocides and for forming respect for human rights and humanistic values in young adults. It's the most interesting program – all conditions for teacher growth and development and more have been created. Thank you to the organizers for the new experiences and knowledge, for the motivation and inspiration, the thematic excursions and active recreation, the many recommendations and attention to each of us participants." –Anna Kholodniak, history teacher (2020 Teacher of the Year), Kremenchuk, Ukraine
The Verba Magistri Methodology Lab's atmosphere of friendliness and trust allows participating educators to exchange ideas and find answers to questions regarding the main purpose of education and the role of teachers in today's changing world. Teachers learn how knowledge is best conveyed, and how best to help students learn the lessons of the Holodomor while promoting social and civic competence, cultural literacy, and entrepreneurship, and instilling in students respect for human rights and a willingness to defend them.
WHAT STUDENTS HAD TO SAY:
"It's a unique experience of cooperation with famous scientists, of changing one's worldviews and finding new landmarks, for professional growth and great motivation, active recreation, and a productive creative atmosphere which is created daily by the organizers, teachers, and students in the school. I am incredibly grateful for every moment of our ten-day training! This experience has changed my worldview and inspired new achievements!" –Tatiana Demochko, educator, Vasylivka, Zaporizhia.
Through a combination of academic lectures, hands-on workshops, presentations, discussions, film screenings and interesting excursions, the Summer School program for educators builds capacity for teachers to broaden their range of advanced teaching methodologies, share current resources and successes, and create a sense of connectedness and shared purpose among Holodomor teachers across Ukraine. Graduates receive a Certificate from the Ministry of Education and Sciences and continue to act as mentors to train other colleagues, becoming involved in pilot projects for teaching the history of the Holodomor in schools.
For further information about the Verba Magistri Methodology Lab Summer School Program: https://www.holodomor-hrec.com/education/summer-school/