Ministers of Education from British Columbia, Saskatchewan and Manitoba respond to the National Holodomor Education Committee Chair of the Ukrainian Canadian Congress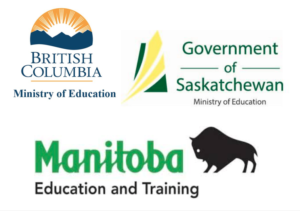 TORONTO | 20 June 2019 This past week, Valentina Kuryliw, Chair of the National Holodomor Education Committee (NHEC) of the Ukrainian Canadian Congress (UCC) and the Director of Education of the Holodomor Research and Education Consortium (HREC) at the Canadian Institute of Ukrainian Studies, University of Alberta, received actionable responses from the Ministers of Education of British Columbia, Saskatchewan and Manitoba. The letters came in response to information packages sent by NHEC and HREC Education to provincial ministers across Canada in April. These packages included a complimentary copy of Kuryliw's recently published teaching resource, Holodomor in Ukraine, the Genocidal Famine 1932-1933: Learning Materials for Teachers and Studentsand other materials printed by HREC Education.
The BC Minister of Education and Training, Hon. Rob Fleming, thanked Kuryliw for sending her book and information package. He directedthe Curriculum Coordinator for the Education Programs Division of the BC Ministry of Education, Nick Poeschek, to respond. Mr. Poeschek commented: "you've compiled some great materials to support the teaching of these topics." He noted that the "primary sources such as photographs and speeches would be particularly useful for BC teachers as they shift to the new BC curriculum" that now has an "increased emphasis on historical thinking skills such as analysis of primary sources and making reasoned ethical judgements." He added, "so this type of resource fits in quite well with these new approaches." He also pointed to the new elective class developed in British Columbia, Genocide Studies 12, in which the Holodomor is a suggested example of historical genocide. He concluded that he will "share the links to HREC Education's website and resources with the BC Social Studies Teachers' Association and ask them to distribute this information to Social Studies Teachers throughout the province."
The Hon. Kelvin Goertzen, Minister of Manitoba Education and Training (MET), responded that "MET strives to provide educators in the province with teaching materials and resources that impart the important lessons to be learned about the Holodomor and its enduring significance to Canadians and the world as a whole." He also wrote that they will include information about Kuryliw's Holodomor In Ukrainebook on MET's Diversity Education website, which goes out to all Manitoba educators.
Saskatchewan's Minister of Education, the Hon. Gordon S. Wyant, thanked Kuryliw for her book and other materials. He stated that the "Government of Saskatchewan supports educating students about global genocides and human rights abuses to help them become engaged and responsible citizens." His staff will be arranging for an evaluation of the Holodomor in Ukraineresource book with the Saskatchewan's Teachers' Federation to determine for which parts of the given curriculum it may be appropriate. He also stated, "the ministry is pleased to share your website and Educator Award opportunities with school divisions in an upcoming electronic communicaton." He added, that the "Ministry of Education is currently renewing secondary social sciences curricula. Your ideas will be shared with the reference committee that has begun to identify possible themes and topics that will be considered in future secondary social sciences curricula."
Although there is a lot of work and follow up that still has to be done, it is a pleasure to hear the thoughtful reaction and responses of these three Ministers of Education who are working on carrying out suggestions made in the packages regarding teaching the Holodomor in their provinces. Local UCC Provincial Councils are being informed about the progress being made in these respective provinces so that national and local organizations can work together to continue these important initiatives on teaching the Holodomor with these ministries.
PLEASE NOTE: The Holodomor Research and Education Consortium (HREC) is a project of the Canadian Institute of Ukrainian Studies (CIUS) at the University of Alberta.