Montreal and Ottawa Host Book Launches for Holodomor in Ukraine
by Sophia Isajiw
On March 3rd and 4th, HREC (Holodomor Research and Education Consortium) Director of Education Valentina Kuryliw participated in two book launches for her recently published Holodomor in Ukraine, the Genocidal Famine 1932-1933: Learning Materials for Teachers and Students in Montreal and Ottawa.
In Montreal, where she spent her formative years in Canada, Kuryliw sang in the church choir for many years in the alto section, next to her mother, at St. Mary the Protectress Ukrainian Orthodox Church on Rosemount Boulevard (known in Ukrainian as "Sviata Pokrova"). On her return there during this visit, she was thrilled to be invited by choir director Claudia Melnyk to sing with them again on March 3rd before her presentation. Following the morning liturgy, there was traditional coffee and sandwiches for parishioners and then Kuryliw gave a brief presentation to parish members about her work in Holodomor education over the past 12 years. The atmosphere was very warm

and inviting, Valentina recognized a few individuals from her youth among those present and she felt quite at home there once more. Church executive members Claudia and her husband Dr. Alex Melnyk were her hosts for the occasion.
Later that day at 3 pm, the formal book launch for Holodomor In Ukraine was held at St. Sophie Ukrainian Orthodox Cathedral on Boulevard Saint- Michel. This event was organized by the Quebec Provincial Council of the Ukrainian Canadian Congress (UCC) along with its Montreal Branch headed by Fr.Dr. Ihor Kutash. Organizing committee members included Greg Kowryha, Roman Serbyn, Zorianna Luhovy, Simon Kouklewsky and Dr. Alex Melnyk, amongst others. The church hall, where Valentina and her husband Ihor Kuryliw had their wedding reception in 1970, was the venue for the event. Some 35 attendees came for the launch on a cold blistery, but sunny Montreal afternoon.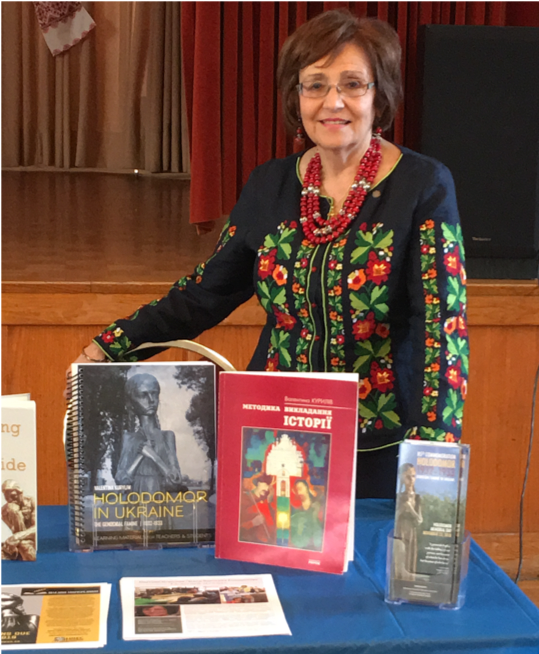 Kuryliw's presentation commenced with opening remarks and a brief biography delivered by Dr. Alex Melnyk.
This was followed by a few words of thanks from Valentina and a short videoclip of her longer interview from the "Children of Holodomor Survivors Speak" oral history project from the collection of the Ukrainian Canadian Research and Documentation Centre in Toronto. She followed this with a Power Point presentation explaining her work with HREC Education and the National Holodomor Education Committee of the UCC, which she chairs. In her talk, Kuryliw emphasized the uniqueness of the "Sviata Pokrova" parish, which was built by and comprised of survivors of the Holodomor and Stalin's former prisoners, for the effect this had on her as a child growing up in Montreal within such an environment. The activism within the church and the influence of some of its parishioners led her on the journey to study the Holodomor.
A question and answer period was followed by comments from Prof. Roman Serbyn, who stressed the need to remember Lemkin's comments on the Ukrainian genocide given in his monumental address to the Ukrainian American community in New York City in 1953.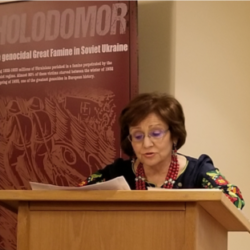 On Monday, March 4, a second book launch was held in Ottawa at the Buduchnist Credit Union Building on Carling Street at 7:30 pm. This event was hosted by the National Ukrainian Canadian Congress, and the Ottawa Branch of the UCC along with other local organizations. A question and answer session followed Valentina Kuryliw's presentation with a lively and open discussion. For Kuryliw it was a pleasure to speak with five young teachers from the Lesia Ukrainka Ukrainian school of Ottawa who attended the book launch along with some 20 additional enthusiasts. It was wonderful to see the genuine interest in the Holodomor and its teaching from those present and to bring greater awareness of changes that have occurred with the recognition and teaching of the Holodomor. HREC Education and Valentina Kuryliw would like to thank Ihor Michalchyshyn of the UCC and Mr. Borys Gengalo, President of UCC Ottawa Branch, for the book launch organization.