Winnipeg educator Jeff Kozak receives 2018 HREC Educator Prize Award during Manitoba Education's Holodomor Education Professional Development event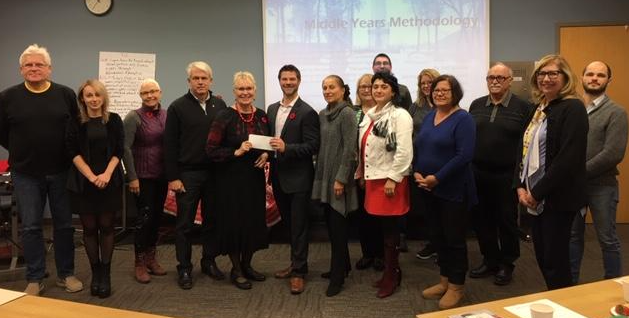 Winnipeg, MB | On November 8th, Jeff Kozak, a teacher at Springfield Middle School in Oakbank, Manitoba, was recognized for his "2018 HREC Educator Prize Award for Holodomor Lesson Plan Development" at the 2018 Holodomor Education PD event sponsored by Manitoba Education and Training. Kozak received second prize and $1,000 from HREC Education.
Presenting the award to Jeff, pictured at centre, to his right, is Valentina Noseworthy, Manitoba Education consultant and organizer of the event. Also in attendance are Darryl Gervais, Director of Instruction, Curriculum, and Assessment Branch, to the right of Noseworthy, and on Kozak's left, Irka Balan, chair of the Holodomor Awareness Committee for the Ukrainian Canadian Congress, Manitoba Council. Also pictured in the photo are presenters and participants at the PD [Professional Development] event. HREC Ed would like to once again congratulate educator Jeff Kozak on his well deserved award! The winning lesson plans will be up on this website.