Shining light on a dark chapter in human history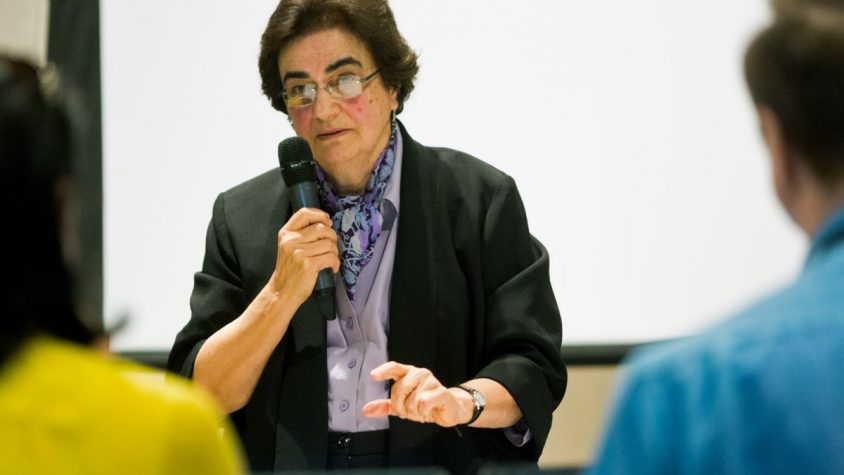 Educators learn how to teach the Holodomor
Attended by some 100 education professionals, the three-day conference showcased world-renowned experts with advice on how to deliver tough subjects, such as human rights and atrocities.
Organized by the Holodomor Research and Education Consortium, the aim of the conference was to increase awareness about the Ukrainian famine by helping educators to bring the story of the Holodomor, into classrooms across Canada.
"How do you teach the Holodomor—something that has a dramatic impact on children without having an emotional impact?" said organizer Orest Cap, associate dean of undergraduate studies at the Faculty of Education, and the son of a Holodomor survivor. "The purpose of the conference is to briefly look at the history but also to look at methodology."
The Soviet famine of 1932-33, known as Ukraine's silent massacre, resulted from a series of restrictive policies imposed by Josef Stalin and the Soviet government that led to the  deliberate starvation of up to 10 million people in Ukraine.
The atrocity was recognized in 2008 as a genocide by Canada, one of 16 nations to make the designation.
In bringing welcoming greetings to the conference, David Mandzuk, Dean of the Faculty of Education, recalled the recent surprising revelation of the Holodomor as part of his cultural history.
"Growing up in an assimilationist family during the 1960s, celebrating our culture and learning about our history, for us, just wasn't a part of personal experience," Mandzuk said.
"I wondered why it took me so long to learn about such a legacy, and I've often thought that one shouldn't reach my age before learning about something as significant as the Holodomor. If is for this reason that I wholeheartedly support this conference as an action to promote Holodomor education."
Saturday-morning keynote speaker, Joyce Apsel of New York University offered classroom strategies for tackling topics like the Holodomor, known to teachers as difficult subjects or histories.
"Students may very well ask: Did this happen? Could it happen again? If it could happen again, how could human beings do this to other human beings."
Apsel suggested introducing the topic by first discussing human rights and what that means to the students, then exploring violations of those rights as a way to ease students into the difficult topic of atrocities such as the Holodomor.
Lise Pinkos, CMHR manager of education programs, said that using the subjects of the right to food and the right to an identity, human rights and Holodomor education go hand-in-hand.
"Education for human rights allows students to develop a sense of responsibility for protecting their rights as well as the rights of others," Pinkos said during a panel discussion. "It encourages students to see how their everyday actions and decisions can contribute toward the protection of human rights around the world."
Called Human Rights and the Holodomor, the Saturday panel discussion was moderated by Associate Professor Richard Hechter of the Faculty of Education. Former Faculty of Education dean, John Wiens closed the panel section with the comment, "What we're engaging in education is to make the lives of children better, and in doing that we're hoping to make our society better and our world better."
Fellow faculty member and panel-discussion coordinator, Prof. Denis Hlynka said the story of the Ukrainian famine needs to be shared with all Canadians.
"(The panellists) all had their different points of view. They all told us a different story or a different part of the Holodomor," Hlynka said. "And it's a story that needs to be told. It's a story that people still don't know about."
Educators from across Canada took another step toward shining a light on a dark chapter in human history last weekend during the Holodomor Genocide Education Conference at the Canadian Museum for Human Rights.