Teacher training workshop at the Canada and An Ever-changing World Conference | Manitoba Social Science Teachers Association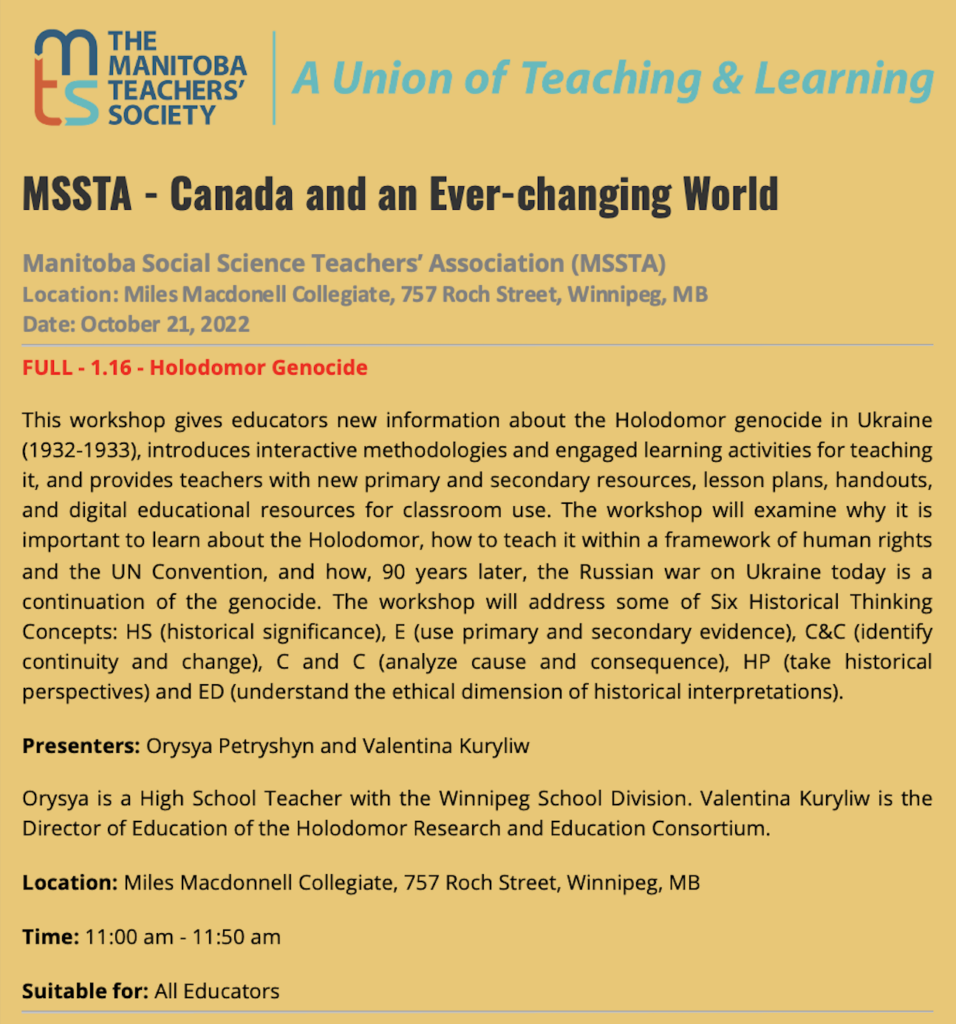 On an annual basis, during Holodomor Education Week and for Holodomor Memorial Day in Schools each November HREC Education visits with schools and others to give workshops and presentations to teachers and students. Always a busy month, there is an increasing amount of people doing more about the Holodomor in November each year now.
HREC's Director of Education co-presented a two-hour workshop on teaching the Holodomor to high school teachers in the Manitoba Social Science Teachers Association with Manitoba educator Orysia Petryshyn for their 2022 conference Canada and an Ever-changing World. The conference is part of the Manitoba Teachers Society Professional Development Day.
The workshop gave educators information about the Holodomor and introduced interactive methodologies and engaged learning activities for teaching it. Teachers were provided with primary and secondary resources, lesson plans, handouts, and digital resources for classroom use. Focusing on how the Holodomor impacted the development of the Ukrainian nation and the peoples of Ukraine, the workshop discussed why it is important to learn about the Holodomor, how to teach it within a framework of human rights and the UN Convention, and how, ninety years later, the Russian war on Ukraine today is a continuation of this genocide.
A keenly engaged group of 28 history and social studies teachers and Faculty of Education student teachers participated to find out more about the teaching of the Holodomor for their history and social studies courses – about half were from Winnipeg and the other half from across Manitoba. The educators were very enthusiastic, a few already teach the Holodomor and were interested to find new materials and more information for teaching it further. By gender, there were about 40% male to 60% female educators in the group. Teachers enjoyed the video because it was a survivor account about Valentina's family, and they were interested in writing out the quotations and much of the learning from the slides. The concept of the progression from bullying to genocide was a key take away for most of the teachers. There were many other highlights in the workshop for them including the variety of resources that can be used to teach the Holodomor for different learning styles. Accompanying the workshop was an exhibit on the Holodomor that included posters, books, DVDs, and traditional Ukrainian cultural artefacts.
90th Commemoration activities: HREC Education stands in solidarity with Ukraine's defence of its own sovereignty and independence.