"The Power of Hope in the Holodomor" Inspires Students to Take Action in Adversity. On the 90th Commemoration Calgary educator's Holodomor lesson plan receives award.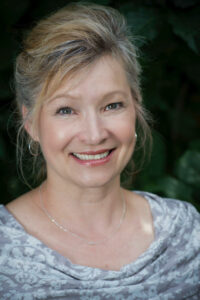 "The Power of Hope in the Holodomor," a lesson plan designed to inspire students to take action in adversity, earned educator Pamela Clark the sixth annual HREC Educator Award for Holodomor Lesson Plan Development.
For creating a lesson plan based on hope and inspiration for grades 3 and 4 on the dark history of the man-made famine of 1932 and 1933 in Ukraine, Clark received an award of $2,000 CAD, a HREC Educator Certificate and her lesson will appear on the Education website for download and use in the classroom by other educators.
"Giving students hope gives them a feeling that they can make change," said Clark, an Elementary Generalist with over a decade of expertise in teaching grades 3-4 at Connaught Community School within the Calgary Board of Education. "If you hear something horrific, you say what kernel in there can I make actionable and can I do something about it? It gives them a feeling of power. How can we move forward as a global community? Students want to do something; they're going to be our future community leaders."
Reading aloud about the relatable central character of Maria in author Rhea Good's storybook Bottle of Grain (illustrated by Natalie Warner), Pamela Clark's Holodomor lesson unit consists of 4 lessons made up of a total of 7 teaching periods. The lessons develop sequentially with inclusive multimodal learning and response opportunities for students of diverse backgrounds, language abilities and learning styles to progress to higher level thinking skills. They teach the Holodomor in a literary way, through the eyes of a young survivor, so there are many opportunities for students to make connections.
Pamela Clark elaborates: "Student reflection and understanding are so important to me. I really wanted to have more than one lesson because this is such a complex topic for the age group I was planning it for, so they can grasp it slowly over different levels. We always start with 'power words' because they give the child that firm background and understanding, especially amongst children who come from all over the world. And the 'power of community' was about connecting to Maria and how her family gave her strength and power, and bridging to how they might see a connection between themselves and the protagonist. The 'Communitree' exercise is there to look at who was supporting Maria and gave her hope, and from the child's perspective–who supports me and gives me hope? The Venn Diagram is also about seeing connections."
Valentina Kuryliw, Holodomor Research and Education Consortium (HREC) director of education who created the annual award and was one of the three adjudicators on the national panel reflects, "Pamela Clark's teaching methodology provides opportunities for students to internalize their understanding of the history of the Holodomor through protagonist Maria's life experiences, and to explore hope, and the strength of family and community. Images and vocabulary in the lesson are used as bridges to understanding, while the book uses grain as a symbol of hope for the community."
Clark notably includes curriculum outcomes/expectations for all provinces across Canada for easy reference by educators. She shared she did this because she wanted to look across Canada and see what kinds of connections she could make, and not just talk about her own province. She has also included a helpful letter template which can be used by teachers to inform parents about the lessons.
The HREC Educator Award and Certificate will officially be presented to Clark by the Ukrainian Canadian Congress (UCC)–Calgary Branch at the annual Holodomor Remembrance Day on November 24, during the 90th Commemoration of the Holodomor, at St. Vladimir Ukrainian Orthodox Culture Centre in Calgary.
The lesson plan also inspires and provides opportunities for students to reflect deeply on their role as global citizens. "The focus on teaching community-building while teaching about the Holodomor is clear in this lesson plan as the lessons progress sequentially in a gentle, engaged way through the various sensory modes of learning into connecting with community organizations. The lessons are thoughtfully designed and it is evident that these learnings will be deeply internalized by younger students to form some core practices for their own future global citizenship," emphasized HREC assistant director of education Sophia Isajiw. She added, "Clark both asks and envisions: how can we move forward as a global community?"
The award is intended to foster the development of innovative, creative, and interactive lessons for grades K-12 in school curricula which develop critical thinking skills while addressing the topic of the Holodomor. The Holodomor Research and Education Consortium (HREC) is a project of the Canadian Institute of Ukrainian Studies (CIUS) at the University of Alberta.