Toronto District School Board Genocide Teacher Awarded Top HREC Educator Prize at Holodomor Memorial Unveiling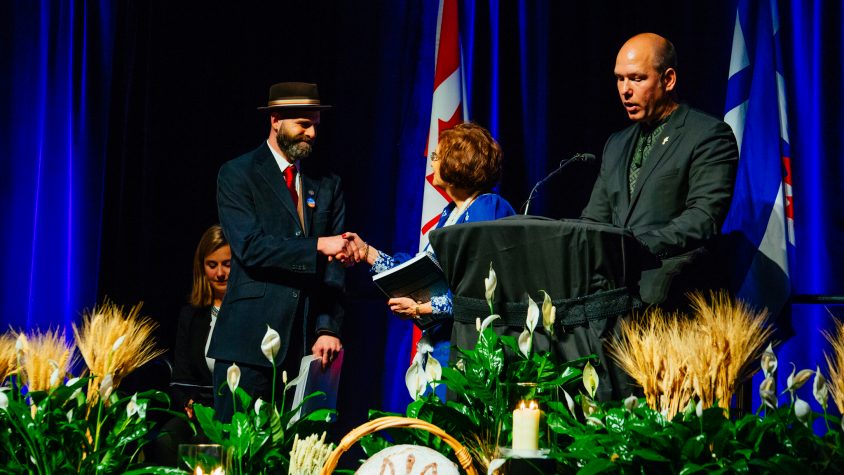 TORONTO | Oct. 21, 2018 – HREC EDUCATION is very pleased to have awarded Weston Collegiate Institute's teacher and curriculum leader Michael Bryan Anthony the 2018 HREC Educator Prize for Holodomor Lesson Plan Development at the official and historic Holodomor Memorial Unveiling reception ceremony in Toronto on October 21st. He is the award's first prize winner.
Awarded this year for the first time to mark the 85th year of commemorating the Ukrainian genocide known as the Holodomor, the HREC Educator Prize is intended to foster the development of innovative, creative and interactive lessons which develop critical thinking skills while addressing the topic of the Holodomor for grades K-12 in school curricula. Anthony has been teaching at Weston Collegiate Institute's Canadian and World Studies Department for many years and for the prize, created a unit of study for Grades 11 & 12: Genocide and Crimes Against Humanity, and Canadian and International Law courses.
In an Oct. 22nd Facebook post, Micheal Anthony stated, "It was a tremendous honour to be awarded the Holodomor Research and Education Consortium's Educator Prize for 2018. I was so pleased to be given this award by my mentor, the amazing Valentina Kuryliw. It was beyond humbling to have the stage and address the crowd about the significance of genocide education and about the fact that it's in only 18 of 111 TDSB [Toronto District School Board] schools. I'm so grateful for all of the wonderful people I meet, and am glad to be able to work with everyone moving forward as we attempt to get genocide education into more schools in Toronto, Ontario, and Canada."
Our congratulations to Michael Anthony! We are looking forward to all you do with your students, and more, in the future.
The second and third prize winners, Jeff Kozak of Springfield Middle School in Winnipeg, MB and Olga Chassé of St. Martin Catholic School in Edmonton, AB, will be receiving their awards in their respective cities at Holodomor Memorial Day ceremonies hosted by their local Ukrainian Canadian Congress branch.
The award was presented by HREC Director of Education, Valentina Kuryliw, with introductions by Paul Grod, National President of the Ukrainian Canadian Congress, and Michael Anthony spoke succinctly and eloquently (VIDEO):