2017 Holodomor Student Competition Awards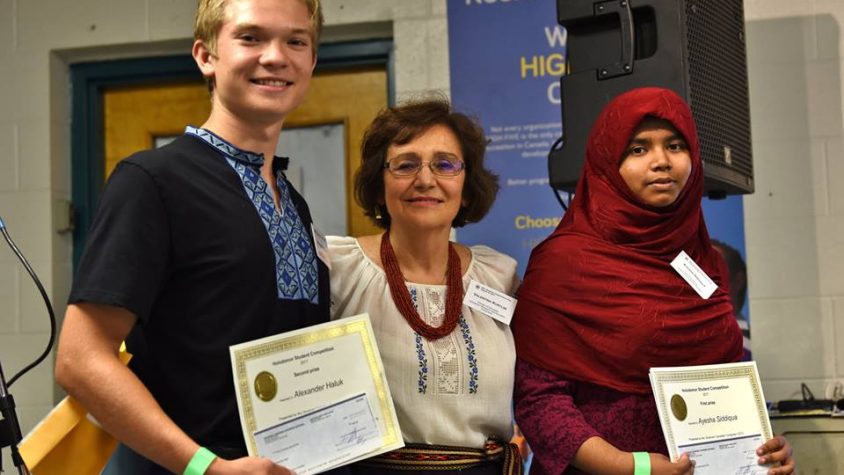 Congratulations to the winners of the 4th Holodomor Student Competition, who were awarded their prizes by Valentina Kuryliw, Chair of the National Holodomor Education Committee of the Ukrainian Canadian Congress, at the Independence Day celebrations, August 19 in Centennial Park, Toronto.
High school students across Canada submitted written compositions, short stories, or research essays on the Holodomor Ukrainian genocide of 1932-33. Pictured here are second place winner Alexander Haluk of Oakville, who wrote a historical essay on "The West and the Ukrainian Terror Famine", Valentina Kuryliw, and first place winner, Ayesha Siddiqua of Toronto, who wrote a historical short story, "The Survivor." Absent was third place winner Labiba Islam of Toronto who wrote a historical research essay entitled, "The Effects of the Famine."
The award was granted during the VIP Reception which was attended by representatives from all 3 levels of government, Ukrainian clergy and community leaders. Significantly again this year, 2 of the 3 award recipients are non-Ukrainians, which suggests that the Holodomor is being taught more widely in Canadian schools. Besides a certificate, each of the recipients received a monetary prize to go towards furthering their education.
Special thanks go to the 4 adjudicators who donated their time, expertise and energy, to the Ukrainian Canadian Congress–National for providing the funding, and to the organizing efforts of the Toronto Holodomor Education Team: Lesia Korobaylo and Christine Synura. The National Holodomor Education (UCC), in conjunction with the Toronto Holodomor Education Team, are planning to release the 5th Competition to school boards across Canada in 2018 to mark the 85th commemoration of the Holodomor.