April is Genocide Remembrance, Condemnation and Prevention Month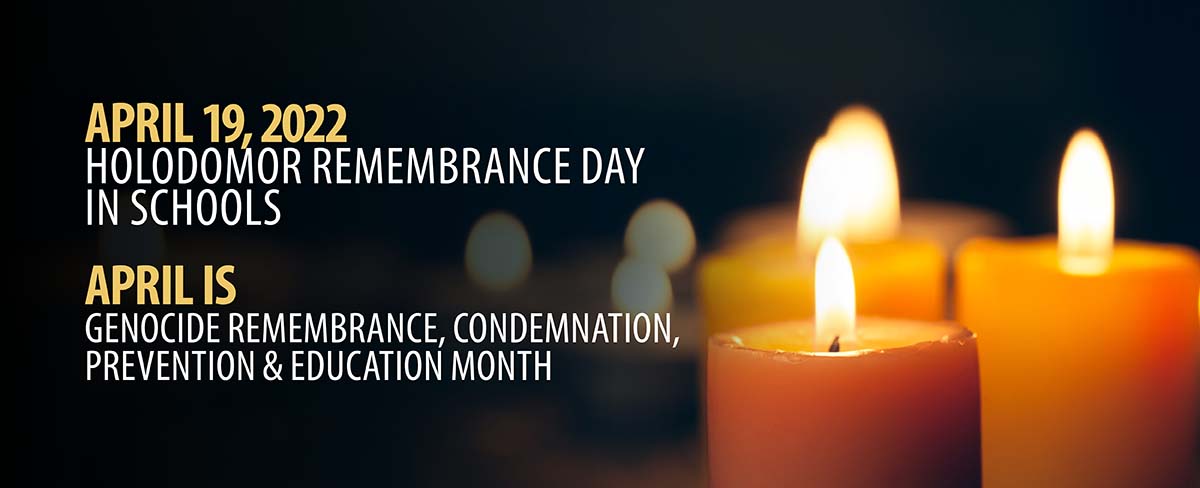 Because April 16, 2022 this year falls on a Saturday Holodomor Remembrance Day in schools will be held on April 19.
---
In the Spring of 1933 the number of deaths inflicted by the Soviet regime's forced starvation of Ukraine escalated significantly. It was the Holodomor's deadliest year. By Spring there was nothing left to eat because many villages had all their food removed by decree. Deaths increased from 12,000 people per day in February to nearly 20,000 deaths per day in April of 1933.
In April each year, Ukrainians worldwide traditionally visit cemeteries to remember the dead with special memorial ceremonies held the week after Easter, when victims of the Holodomor are specifically remembered.
April Genocide Remembrance, Condemnation and Prevention Month is recognized in Canada annually through a historic motion passed in 2015. During this month, we honour the memory of the victims of genocide whose survivors Canada has welcomed along with the descendants of those who perished in the atrocities. The Holodomor is one of 9 global genocides recognized by the Government of Canada and 6 of it's provincial legislatures.
April 16 is designated as Holodomor Remembrance Day in Schools by the Ukrainian Canadian Congress.
---
Screen our new video Child of Survivors of the Holodomor 1932-1933 Ukrainian Genocide in your classroom during the month of April.
Educators are encouraged to take time in April to remember those who suffered and lost their lives in the Holodomor and other genocides. We commit to using education to protect and defend human rights and dignity everywhere and to stand up against all exclusionary practices that are known precursors to crimes against humanity. We make a commitment to commemorate the victims and survivors of these atrocities, as responsible citizens, so that we never lose sight of our collective responsibility to fight prejudice and all forms of discrimination, to prevent hatred from taking root in our communities.
---
Genocide in Ukraine Today
Few can watch in silence the horrific attacks and unimaginable barbarity launched by Russia against Ukraine since February 24, 2022 in an unprovoked invasion violating Ukraine's sovereignty and territorial integrity and in blatant disregard of international laws. There are no NATO troops in Ukraine, Ukrainians are fighting alone. Cities and villages are being indiscriminately shelled daily with bombs, illegal cluster bombs and thermobaric weapons, missiles and artillery. This has resulted in the complete destruction of residential areas, schools, hospitals, museums, landmarks and sites of cultural and historic importance, as well as military facilities and economic infrastructure. The massive loss of innocent Ukrainian lives, of children, women and the elderly, continues to mount daily, while well over a hundred thousand are living terrorized and starving in basements and bomb shelters without water, food, heat or electricity, blockaded by Russian forces from humanitarian aid reaching them or being able to leave through humanitarian corridors.
For years, Russian President Vladimir Putin has publicly questioned the very legitimacy of Ukrainian statehood and declared that he does not accept the existence of Ukrainians or a sovereign Ukrainian state. Putin has brutally invaded Ukraine because he deems it should belong to Russia. Putin wants Ukrainians to accept a Russian identity or be destroyed. As happened with Stalin when he perpetrated the Holodomor against Ukraine, both men fear an independent Ukrainian state, deny Ukrainians their identity, language, religion, traditions and historic memory. Stalin wanted Ukrainians to deny their own identity and become Soviet citizens with Russian language and culture. Stalin's solution was to starve to death millions of Ukrainians into submission to destroy Ukrainian national aspirations for independence. This is known as the Holodomor genocide of 1932-1933. Today in 2022, as Putin attempts to eradicate the Ukrainian nation, annex Ukraine to Russia and rewrite the history on the origins of both, another state-sponsored genocide unfurls now before our very eyes. This is an attack on every democracy, every country that wants to remain sovereign, and an assault on the international rules based order.